75 Best Web / Graphic Design Blogs for Designer (Must Follow) in 2019
Last updated on 15 December, 2017
For web designers, it's a most vital task for building a wonderful and unique website every time. At the same time, using some best web design blogs and online resources like best news, tools, tutorials, freebies or other valuable web design trends can be is handy.
But with this well-crowded internet and thousands of web design blogs or sites out there, results in the even big confusion that is which ones worth reading?
As we know, time is money, so killing too much time browsing through some web design blog articles probably a habit that you don't want to bring to New Year. So without getting any more time here I have a list of websites for boost up your web design inspiration and assume that they will deliver the finest quality content to you.
Have a look at our best web design inspiration sites:
Smashing Magazine
Smashing Magazine provides most innovative and valuable information to web developers and designers. Their posts generally on web designs, graphic designs and users experiences.
Creative Bloq
Creative Bloq is a web design blog to follow that carry a daily balance of creative tips and assist you to find your next design inspiration through graphic design, web design, 3D and much more.
Tuts+
Envato's Tuts+ is entire regarding online learning; serving professionals apply the creative skills they obtain in expertise such as illustration, coding, photography, web design etc.
Hongkiat
Hongkiat is a popular platform for developers and designers serving with tutorials, tips and inspiration about whether it is Photoshop, WordPress, HTML/CSS or even for the social promotion.
TheHotSkills
TheHotSkills – Web Design Inspiration Gallery site full of amazing ideas for your next website and tips, articles and freebies dedicated to all designers.
Designmodo
Designmodo is a place fully loaded with a treasure of information for designers or developers, presenting handy content in a sequence like, WordPress, coding, freebies, tutorials, inspiration and so on.
Noupe
Noupe is a web design and development site that focuses to keep users educated with all about relevant information in the niche of CSS, JavaScript Ajax, web design inspiration sites, graphic design, and more.
CSS Tricks
CSS Tricks gets updated with several posts each weekday with all data related to design & development and you can also get benefit from video tutorials, code snippets, community forums and more.
Web Designer Depot
Web Designer Depot's aim is to spread the best and latest inventions, tips and tutorials regarding web designing & development yet also providing business side of designing work, mobile apps etc.
Shopify Blog
Shopify Blog helping designers and development successfully flow their creative juices with inspirational articles, events, tools and much more.
Wix Blog
Wix is a leading website that provides latest scoop on web design including the most trending which can be used as web design inspiration for making stunning sites.
Good UI
Good UI from its homepage an easy ongoing library of inspiration or ideas for good UI designs. The most interesting part of this site is the counter which tracks your growth through their list of ideas.
Naldz Graphics
Naldz Graphics is a design inspiration site having a lot of users and readers who take advantage of their daily fix of freebies that can be utilized in their personal work and get updated with latest trends and tutorials in web design.
SitePoint
SitePoint nowadays develops into a central hub of web professionals in all types of web-professions such as designing, development, SEO, product creation and entrepreneurship.
Codrops
Codrops is a website that showcasing tutorials, articles, freebies, blueprints, and variety of other best content based on all types of newest tactics and trends in web design agency.
Design Shack
Design Shack founded in 2003 providing motivation in all sorts of areas from designing and a great resource that assist viewers teaching how to create the same example and be successful in their goal.
Speckyboy
At Speckyboy you will get useful time-saving tactics, tutorials, helpful resources and inspiring abilities in all sorts of the web from design to mobile or even more.
Creative Overflow
Creative Overflow is an online design magazine with an aim to inspiring designers and delivering great pieces of content such as articles, tutorials, resources, inspiration, and more.
Web Designer Wall
Started in August 2007, Web Designer Wall is a site about web design, trends, and tutorials. This web design site has been featured on many CSS galleries due to its quality content and gorgeous design.
Web Design Ledger
A platform where you can read several new articles every day. Web Design Ledger's major purpose is to provide a site that let visitors share information and resources from tips to interviews.
Awwwards Blogs
Awwwards – A web design inspiration site that aims to be aware and promote the skills of capable developers or designers who can offer audiences valuable, modern or motivating value and access to great contents.
1st Web Designer
1st Web Designer is a trending site for beginners to how to start web designing from scratch, yet it is also a big source for experienced designers featuring articles from CSS templates & UX trends to WordPress theme reviews.
Digital Telepathy
Digital Telepathy – A design group seriously focused on the user experience, marketing websites, e-commerce, digital products & mobile apps. You can browse through design to philosophy to resources to interviews.
TheDsgnBlog
Again a beauty from web design inspiration sites, TheDsgnBlog carries high-quality inspiration, featuring great works of designers and great posts from all over the globe.
Bashooka
Bashooka is graphic and web design inspiration site providing tutorials and other valuable resources for developers and designers.
Co.Design
Co.Design is a leading online web design blog site having more than one million users per month. This platform dedicated to both designs and business.
DesignTaxi
DesignTaxi is a simple but informative web-site regarding designs, Photography, Art and other inspirational categories of the site.
Line25
Founded in 2009, Line25 shares web design inspiration and ideas by presenting tutorials and viewing examples of attractive websites designs. The site is typically updated with new posts like pattern & texture roundups to WordPress plugin reviews at least every workday.
You The Designer
UCreative's – You the Designer one of the web design inspiration sites suite both newbies or professionals. Roam through categories like business & photography, freebies and resources available.
Designr Fix
Designr Fix is another blog for designers greatly focus on a community targeting the evolution of art in terms of techniques or inspiration. Also take benefits of tutorials, freebies, deals and more.
Abduzeedo
Abduzeedo is one of the web design inspiration sites dedicated to the collection of resources for helpful tutorials and motivational visuals that assist designers.
Design Beep
Design Beep is a site that's dedicated to the content especially for designers and developers or everything that's related to designs.
Inspired Mag
Inspired Mag site about web design that mix subjects related to the web, designs and lifestyles and want to provide readers a piece to boost their inspirations and featuring posts in categories such as web design, reviews, WordPress and freelancing.
Instant Shift
InstantShift is a community dedicated to web designers or developers covering any fragment of plugin review, WordPress tips, CSS and Photoshop lessons. Also, you can try their collections of open source fonts and icons.
From Up North
From Up North is a site only for visuals inspirations, photographers, graphic designers or illustrators. Very much every professional associate with any corner of designing will get something that will flow their creative juices even more.
Spoon Graphics
Spoon Graphics is a web design inspiration blogsite created by a graphic designer Chris Spooner with his desire to share motivating tutorials, in-depth posts, and collections of freebies that anyone can apply in their personal work.
24 Ways
24 Ways is a website with a unique idea. For 24 days in every December, a group of skilled web designers and developers join together to serve you with 24 posts focused on the themes they think essential for people in their areas of field, which are then published a day at a time.
A List Apart
A List Apart was founded in 1998 and since it has uphold the top of standards when it comes to content while still remain on the watch out for new voices that contain attractive perspective about web content.
The Next Web
The Next Web is a growing online publication site providing information regarding business, tech advances and cultural news.
Vandelay Design
Vandelay Design is a great hub for web design professionals and developers, but as well as other types of entrepreneurs. You will also get access from thousands of handcrafted graphics and all from resume templates to icon packs from their shop.
WPKube
WPKube is a resource dedicated to WordPress websites having the great fragment of content on WordPress Themes, tutorials, plugins, news, and Modifications.
FollowBright
FollowBright is an award winning and greatly respected web design agency specialize every aspect of design & development and proving helpful content to others.
OneXtraPixel
It is a Singapore-based online journal site showcasing the tips, case studies, tutorials, news and other helpful resources for developers and designers. Onextrapixel's analysis of design trends and even case studies making it must try source for design professionals.
Little Big Details
Little Big Details – A simple set of pieces designed to encourage designers in 2010 and now helping thousands of subscribers sending pieces for consideration, which are mostly geared towards UX designing.
SiteInspire
SiteInspire is a simple and beautiful web design inspiration site having a creative idea to highlight the most excellent in web designs according to their specific criteria. They have a collection of more than 4700 websites.
Web Design Blog
Web Design Blog is an online design inspiration Resource for designers having access to PSD Mockups, Web Fonts, Icons, WordPress Templates and Other Designing Tools.
Tutorialzine
Tutorialzine created by skilled web designers and developers from Bulgaria. This design dedicated site might have a simple look but their content is outstanding and elaborate each step for better understanding.
MonsterPost
Template Monster's portal dedicated to design & development. Get updated with industry news, reviews, right to use tools and learn new skills with the tutorials of MonsterPost.
Creative Market
Asides from their high-quality posts mostly devoted to design, Creative Market an online crowded platform with handcrafted content for all new or professionals designers from the variety of designing trends to inspirational quotes.
Treehouse Blog
Treehouse is well-known and the finest portal for learners to study online coding thorough collection of tutorials video and on-screen practice.
Hacking UI
Hacking UI is a good thing for designers to build up their professionals skills. Get access to podcasts, detailed guide where experts help you solve design issues and exclusive insight into business-end matters.
Design Your Way
Design Your Way is a visual collection of instructions for, UI, UX and web design, along with a strong quota of free resources, posts covering typography and WordPress information for designers.
UXPin Blog
UXPin is mostly recognized for their UX designs, publishing for helping professional designers because of their efforts now it an incredible source for UX, design and project management tips and tutorials.
Medium / Design / UX
Well established website Medium barely needs an introduction. Here a created list of authors wrapping topics about UX and design has not as active lately; yet still a fine source for designers.
UsabilityGeek
UsabilityGeek created by Justin Mifsud, who feels that there was an extensive lack of information about how usability affects the quality of websites. Since he started this site published the knowledge regarding conversion, UX and information architecture.
Boxes and Arrows
Boxes and Arrows aim is to the discuss and spread information regarding every array of graphic design, UX, information architecture and business design to help out designers.
FreshWebDev
FreshWebDev is site aimed at web development and designs covering WordPress, Freebies, Icons & Fonts, Javascript, and more.
BoagWorld Blog
BoagWorld is the aptly named suite of resources (from podcasts to books, and the aforementioned blog) devised by Paul Boag, where he and other members of the Headscape team get to talk about web development topics ranging from accessibility, design, marketing, and working in the web.
UX Magazine
UX Magazine is an online UX community site nowadays spreading well knowledgeable articles covering all of designing with the help of industry best professionals.
Design You Trust
Design You Trust is one of the web design inspirations sites a website packed with new design trends, events, news and hand-picked inspirations material all around the world.
Web Design Wheel
Web Design Wheel a helpful resource for Professional Web Designers and developers with creative techniques from coding, design, wordprss and other handy tutorials.
Designer Daily
Designer Daily is a blog site for both designers and web-designers founded by Mirko Humbert, a Swiss graphic designer who like to spread his ideas or views on design, tips, free stuff & more.
Web Designer Trends
Web Designer Trends a French website serving with best articles on the latest web design trends, site selections for inspiration, resources, tools and more.
Designer Blogs
Designer Blogs is eye catchy inspirational site dedicated to in custom blog designs for personal and business blogs hosted by BLOGGER and WORDPRESS.
Design Reviver
Get your daily doses of design stuff with DesignReviver a web design inspirational blog-site providing a variety of web services such as hosting, website builders, freebies and other content relevant to web designs.
Happy Cog
Happy Cog created by a team of professionals a blog site for web design and development lovers discussing web designs, user experience, business, content strategy and more.
WebAppers
WebAppers is a collection of the best open source resources for developers or designers. Here you will find a categorized library full of stock photos, icons, fonts, brushes and inspirational items.
Material Design Blog
Material Design Blog is a design inspirational site was created upon a material design and publishing tutorials and apps on daily basis to assist web designers in their daily work.
SmileyCat
Smiley Cat is web design tips blog created by Christian Watson for designers with web design relevant contents.
Web Designer Pad
At Web Designer Pad you will Learn Web Designing, Latest design trends related to web, tips, inspirational WordPress Themes and a lot of helpful things.
Pixpa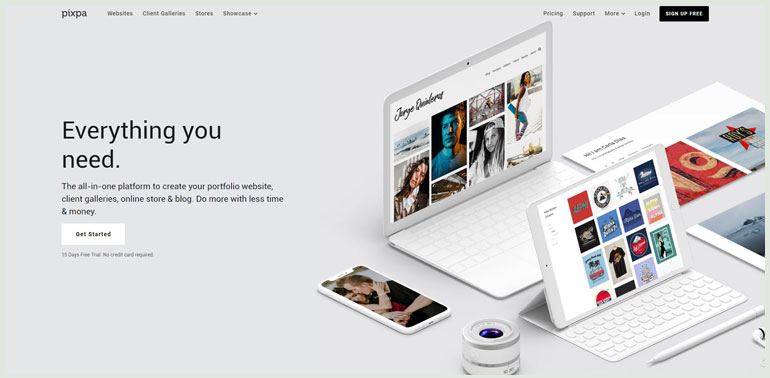 A great design portfolio can propel you towards success, open up new opportunities and get you just the kind of work you want. Here's our selection of 25 of the best design portfolio websites for your inspiration built on Pixpa.
Conclusion
It surely not an easy task to get updated with best or latest information on web designing, but with the above-mentioned list of web design inspirations sites, you can get updates of upcoming or latest design trends and information in 2018.
and now…
Which site from the list do you like the most or we forget to mention any great source on this list?
Share your views in the comments section below and spread our words too!
You May Like: